Last night, the Part Timers attended the inaugural Young Music Boss Awards event, a very special night aiming to show recognition to the tireless work going into the music industry by those under 30. The industry is a complex machine of so many people working together and I couldn't be happier to be a part of this night as a light was shone on those working hard behind the artists and tours. In a write up for Notion Magazine the Founder of YMB Jusnah Gadi commented: 'Our aim at YMB is to empower and support young professionals. The idea to host an awards evening was driven by the lack of visibility of so many incredible creatives and entrepreneurs doing massive things to energise the industry. We hope the event helps to bring them to the forefront.'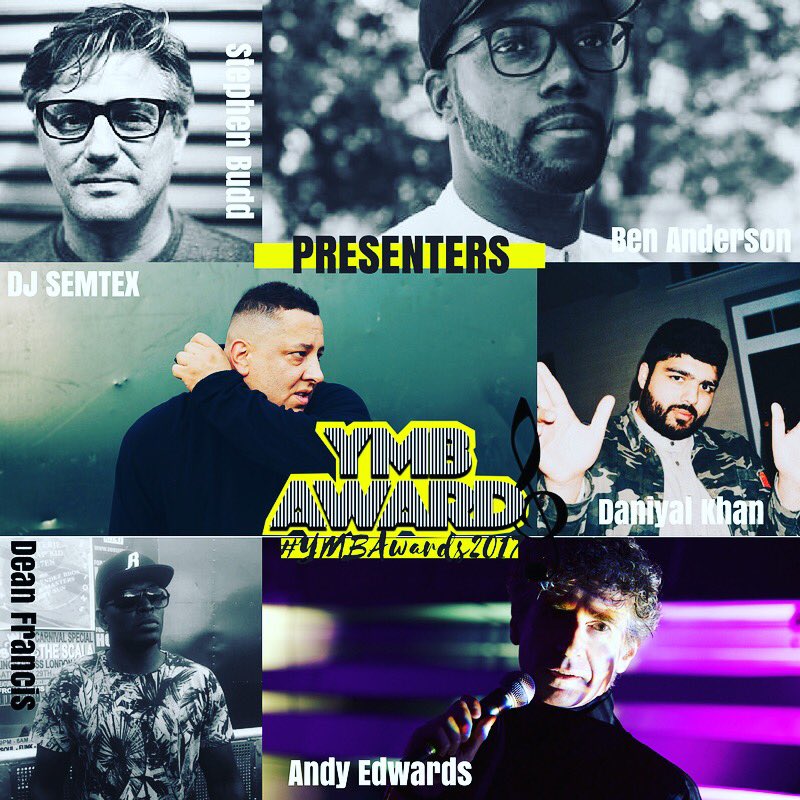 One of the performers of the night, Teks Sinatra (@teks_sinatra) said, on giving recognition to those behind the scenes as the YMB awards did with its categories, 'They're the actual gamechangers. They give us the opportunity to change our lives, especially those coming up that aren't as established or recognised.' Young and upcoming RNB star J Lavaly (@artist_jlavaly) added that 'Within different communities there is so much hidden talent, platforms like this give them the come up they need.' He also performed a stripped back acoustic snippet of Desiigner's Timmy Turner as well as live exclusive of his new track Night and Day.
With 18 categories celebrating the talents of a range of roles from publicists, lawyers and agents to videographers, promoters and stylists – nominees were carefully selected by a group of music industry specialists including songwriter and publisher Celitia Martin, Sunjay Kohli (Ticketmaster) and Prince Rapid (Ruff Squad Foundation). Young Music Boss previously announced Sian Anderson (@siananderson) as their winner for the 'Music Entrepreneur of the Year' award – not your average radio presenter, but a blooming business mind who founded marketing/PR agency Sightracked and launched Floor SiXX just a short time ago. She's also behind youth mentoring programme One True Calling; a very worthy winner – you can see a full interview with Sian on the YMB website.
There were some special faces presenting awards on the night, including founder of Musicalize Ben Anderson who presented Tazer Black with the award for Promotor of the Year; DJ Semtex announced DJ P Montana with the award for best DJ and Andy Edwards account manager from PPL presented Abi Jenae with the award for Lawyer of the Year.
The Part Timers Pick of the Night – Producer of the Year
Knowing how much work, talent and knowledge of the industry is required to succeed in this role, my pick of the night is the category of Producer of the Year. A producer isn't just someone who sits behind their desk making beats – they are a sound engineer with a keen ear who can have a vision for what a mixed and mastered track is going to sound like, they are musicians who use instruments and production software to enhance even the simplest of beats or melodies and they are even talent scouts, because the artists they choose to work with will be what makes a successful song. Every nominee in this category has been all of those things and more!
Jae5 @official_jae5
Nana Rogues @nanarogues
Steel Banglez @steelbanglez
6IXVI @6ixvi
And the winner… The Compozers @compozers
Such worthy winners, but the Compozers couldn't be there to accept the award, because they were working on their 'A Night with the Compozers' show, where they took over the Roundhouse in Camden performing live versions of Afrobeats and UK rap songs. They've worked tirelessly to support UK artists, their roster including Krept and Konan, Lethal Bizzle and also Wizkid and Fuse ODG, and more recently have been behind the production on Intro/Crank it Up on Not3s new EP. Just a snippet of what the Compozers are about and what they've done – this is a collective of four extremely talented black British guys who simply believe that music is a powerful tool and can be used to transform the lives of people around the globe.
Check out https://www.compozers.co.uk/meet-the-band for more!
Here are all the categories, nominees and winners:
DJ of the Year
WINNER: DJ P Montana @dj_pmontana
Siobhan Bell @siobhanbell
Tiffany Calver @tiffanycalver
Rachael Anson @rachaelanson
Mercedes Benson @mercedesfbenson
Radio Station of the Year
WINNER: Radar Radio @radarradioldn
WestSide @thisiswestside
Reprezent @reprezentradio
Pulse88 @pulse88radio
NTS Radio @nts_radio
Radio Personality of the Year
WINNER: DJ P Montana @dj_pmontana
Rebecca Judd @rebecca_judd
Remel London @remel_london
Yinka Bokinni @yinkabokinni
Nadia Jae @itsnadiajae
Photographer of the Year
WINNER: Ashley Verse @ashleyverse
Courtenay Francis @courtneyfphoto
Ray Fiasco @rayfiasco
Zek Snaps @zek.snaps
Vicky Grout @vickygrout
Videographer of the Year
WINNER: Kaylum Dennis @kaylumdennis
Read the Title @readthetitle
Ade OG @adeog
Jeaniq @jeaniq_
KLVDR @klvdr
Manager of the Year Sponsored by PPL
WINNNER: Kaiya Milan @kaiyamilan
Teriy Keys @teriykeys
Moe Bah and Kilo Jalloh @kilo_k1
Elle SM @ellesmx
Ceisha @ceishasimone
A&R of the Year
WINNER: Morgan Keyz @morgankeyz
Caroline SM @carolinesmx
Jamila Scott
Amber Davis
Tiana Rowland-Dixon
Lawyer of the Year
WINNER: Abi Jenae @abijenae
Amedeo Capuccio
Leeza Panayiotou
Agent of the Year
WINNER: Craig DeSouza @primary_talent_interantional
Aisha Abdulhameed @coalitiontalent
Jason Edwards
Publicist of the Year
WINNER: Ayo Adepoju @ayo_wpgm
Parris Oh @parisoh
Leila Singh @lilzofficial
Tasha Demi @tashademi
Rachel Campbell @rachelwired
Promoter of the Year
Steven Cee @stevenceemusic
DJ Semo @DJSemo
Idiot Savant
Matthew Bridgeman @mattbridgemanuk
WINNER: Tazer Black @tazerblack
Stylist of the Year
Alize Demange @alizedemange
Leah Abbott @leanabbott_
Alexa @_v3nus
Laurie Hadleigh @mslaurielondon
WINNER: Ayishat Akanbi @ayishat_akanbi
Most Influential Digital Platform
Link Up TV @linkuptv
SBTV @sbtvonline
Certified UK @certified_uk
P110 Media @p110media
JDZ Media @jdzmedia
WINNER: GRM Daily @grmdaily
Publication of the Year (print/digital) sponsored by Record of the Day
Viper @vipermagazine
Pardon My Blog @pardonmyblog
The Move @themovemag
Beat
WINNER: Guap @guapmag
Live Music Platform of the Year
FSNDS (Future Sounds) @futuresnds
NANG @thatsnang
I AM Next Platform @imnextplatform
New Grime Order @newgrimeorder
WINNER: Acoustic Live UK @acousticliveuk
Clothing Brand of the Year
ODF Clothing @odfclothinguk
Sons of the First Tribe @sonsofthefirsttribe
Marbek @marbek
Benjart @benjartworld
WINNER: Swag London @swagldn
Congratulations to all the nominees and winners of the evening and a massive thank you to Young Music Boss for having us!
Until next time guys!
Payal xx